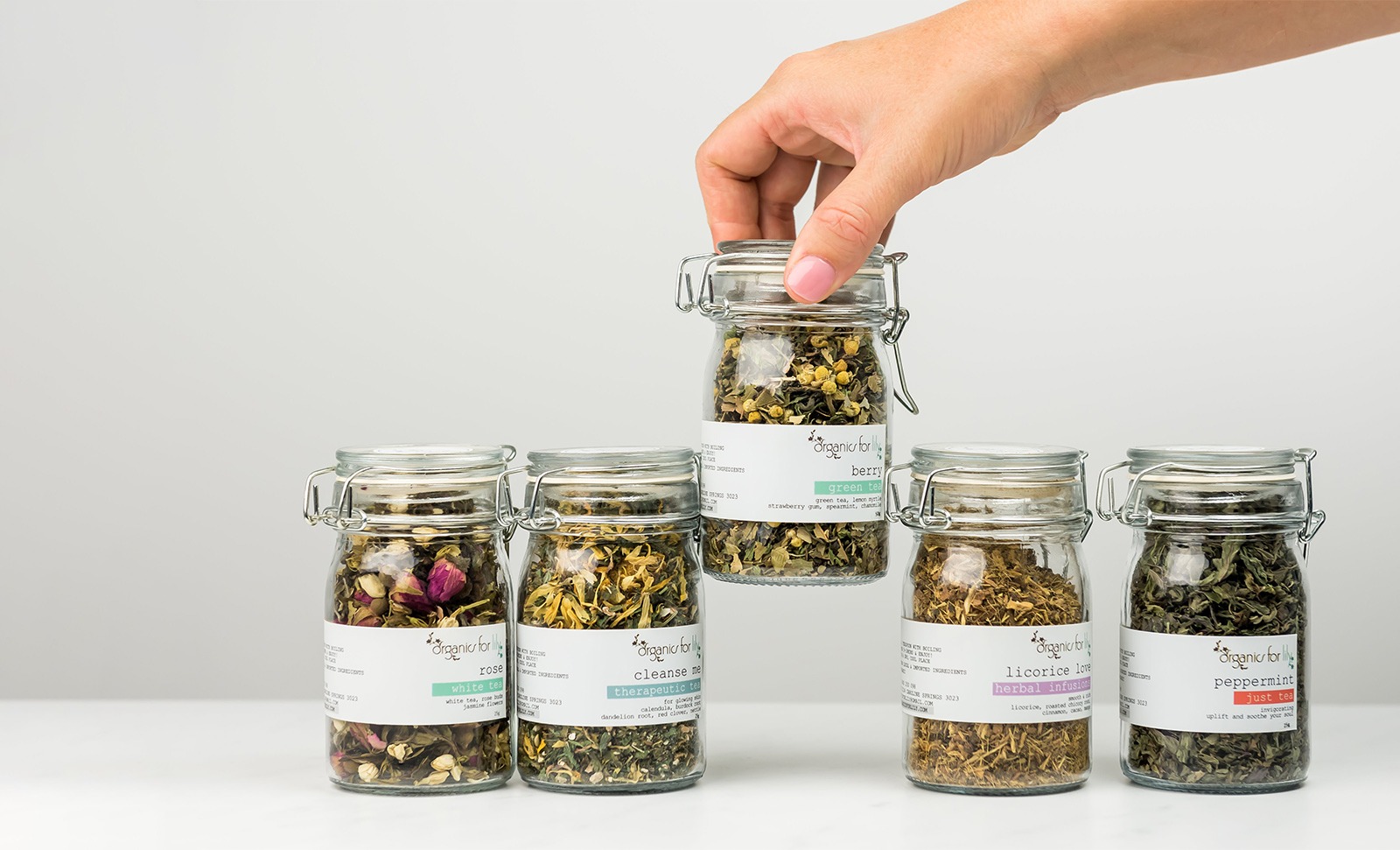 For your overall health and wellbeing, there's an organic herbal tea specially made and blended by Organics For Lily. Carefully crafted by our very own tea master and naturopath, here is our selection of organic herbal teas that fulfill the basic elements of an authentic, quality organic herbal tea:
Ingredients that are certified organic. We only use certified organic and natural ingredients in our teas like its botanicals and aromatics that are rich in vitamins, minerals, and nutrients. And because they're all certified organic, you can reap the benefits of our organic herbal tea to its fullest. It's also our contribution to supporting sustainable agriculture that's totally chemical-free.
Packaging that is eco-friendly. One of the company's principles is to minimise our carbon footprint. That's why our tea products reflect that principle that extends to its packaging. We pack our products in eco-friendly, recyclable, and biodegradable materials.
Herbal tea cut. The botanicals we use in our organic herbal tea are specifically cut for herbal tea. You may be able to distinguish them from the other ingredients in the filter; they are usually bright, uniformly cut, and have a colour. The herbal cut prepares them for decoctions and infusions.
Expertly handcrafted. Organics For Lily employs the expertise and knowledge of a tea master and naturopath whose passion for tea making and tea brewing have helped us create our very own range of therapeutic, loose leaf herbal teas that nourish the soul and improve your overall wellbeing. These are blends that centre around a naturopathic philosophy and evidence-based research.
Benefits of Organic Herbal Teas
Organic herbal teas generally help the body maintain a healthy balance of good bacteria in the digestive system so you can better digest and process food and absorb its nutrients properly. It also boosts the body's antioxidant levels to combat free radicals and various age-related diseases. The vitamins and minerals from the organic herbal ingredients are rich in vitamins, minerals, and other nutrients that help strengthen the immune system. And of course, organic herbal teas soothe the body and the mind like no other tea!
Our Expertly Crafted Selection
Licorice Love Tea – naturally sweet, the blend of licorice root, cacao, cinnamon, chicory root, and mango will add spice to a romantic moment.
Peppermint Tea – made from 100% certified organic peppermint leaves, you're sure to benefit from its medicinal effects.
Refresh Me Tea – need a pep up? This one's blended with peppermint, spearmint, hyssop, and lavender that will totally refresh and give you the boost you need.
Lemongrass & Ginger Tea – a classic, this herbal blend calms an upset stomach and relieves indigestion. Truly handy to include in your pantry.
Cool Vanilla Tea – a refreshing blend of spearmint and hawthorn berries with a little hint of vanilla, this blend gives you a minty tonic to get you going.
Christmas Tea – a festive seasonal blend of peppermint, hibiscus, cloves, cinnamon, and apple that sets the tone for the season and its good tidings.
Organics For Lily is your online tea shop where you can find the best organic herbal tea made from 100% organic and natural ingredients crafted by our very own tea master and naturopath. You can't go wrong when you're on your way to a healthy lifestyle. Go for organic herbal teas only from Organics For Lily.