Organic Herbal Tea
Have you been craving for organic herbal tea in Brisbane that delivers all the health benefits but tastes absolutely amazing? Well, you have come to the right place because we have exactly what you are looking for with your satisfaction guaranteed!
Going back to 2013, Organics For Lily has pleased customers with the highest quality organic herbal tea blends carefully designed and handcrafted by our tea master and naturopath to give you the most heavenly cups each time. Located in a leafy acreage in Brisbane's western corridor, we have made our range of delectable brews from 100% organic and natural ingredients, so they are not just healthy but free from harmful chemicals and man-made compounds. Combining Mother Nature's most delicious elements, our years of knowledge and expertise, and whole lot of love and care, we deliver the tastiest organic herbal tea blends you will find in the market today.
Take a sip of the different varieties of our organic herbal teas to discover why customers keep coming back for more. All our loyal patrons have experienced first-hand how each cup can satisfy your craving for a powerful yet soothing blend of 100% premium quality organic ingredients. By combining all-natural botanicals and aromatics rich in vitamins, minerals, and nutrients, you get Mother Nature's best health-giving elements along with the unique herbal taste and scent you want. Give our organic herbal tea blends a try and we promise you won't regret it!
Browse through our shop to see what delicious organic herbal brews we have in store for you.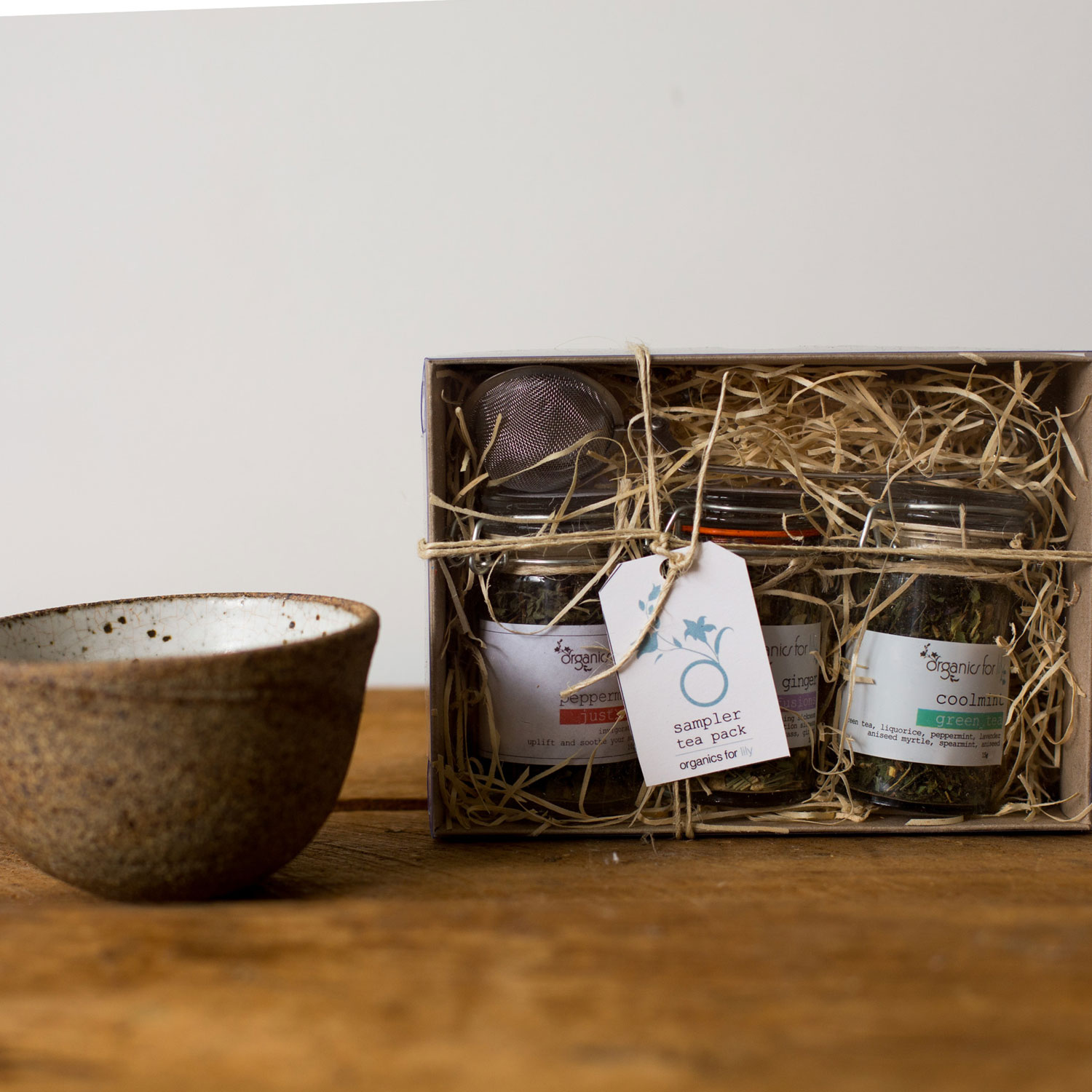 What Are The Benefits of Organic Herbal Tea?
Scientific research has shown that organic herbal tea can provide you with a whole host of health benefits. Through regular intake, you can –
Strengthen Your Immune System

Organic tea can help strengthen your immune system with vitamins and minerals that can help fight off illness as well as bacteria, viruses, and fungi.

Boost Your Body's Antioxidant Levels

Organic tea can help boost your body's antioxidant levels to combat against free radicals that damage fatty tissue, DNA, and proteins which lead to disease.

Improve Your Digestive Health

Organic tea can help maintain a healthy balance of good bacteria in your digestive system so you can better process food and absorb nutrients.

Soothe Your Body and Mind

Organic tea can help soothe your body and mind by aiding in the reduction of stress as well as the relief of bone, muscle, and joint aches and pains.
These are just some of the health benefits that organic herbal tea can offer you. Studies have shown that there a lot more advantages to drinking tea every day.
What Types of Organic Herbal Tea Do We Offer?
Organics For Lily offers a wide range of premium quality organic herbal tea made with love especially for you. Our special in-house blends include –
Christmas Tea
Licorice Love Tea
Peppermint Tea
Refresh Me Tea
Lemongrass & Ginger Tea
Cool Vanilla Tea
All our organic herbal tea blends are available in bulk bags so you can refill your jars quickly.
So, what are you waiting for? Order yours today!